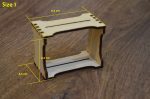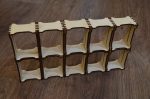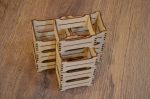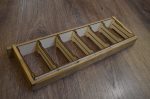 | | |
| --- | --- |
| Weight | 0.240 kg |
| Brand | |
| Color | Wood |
| Size | |
Wooden Beekeeping Cell Frames for Bee Nest Harvest
SIZE 1 – 83mm x 63mm x 45mm – 10 cells fit in 1 frame
What you will receive?
You will receive wooden beekeeping cells. Depending on size and quantity something similar to this:
We can customize the cell frames sizes to your frame. Custom order.
What is it?
The small wooden frames are placed in one bee frame (not included). Appropriately inner frame size should be +/- 126 cm x 412 cm.
Thickness – 3 mm (+/-0,3) mm
Sheet line – 4 mm (usually beeswax sheet is 3 mm thick)
Any quantity available to make (2-4 working days)
How they should look before the frame?
You will need to buy beeswax sheets and cut them and place in the wooden cells before placing in the main frame. Beeswax sheets are sold separately. Be carefully buying cheap sheets.