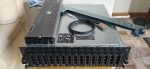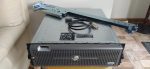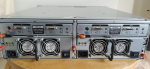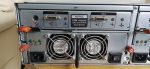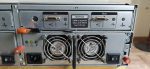 2x Dell PowerVault MD1000 Storage Array 15x 3.5″ SAS HDD Bays 2x EMM 2x PSU NO HDD Rails Set SAS Cable
1
People watching this product now!
2x Dell PowerVault MD1000
Pulled From Working Environment, In Good Condition, In Full Working Order, Tested
Included:
! ! ! No Hard drives included (NO HDD) ! ! !
2 X Dell PowerVault MD1000 Storage Array
30 x 3.5″ SAS Hard Drive Bays
4 x Dell PowerVault MD1000 SAS/SATA EMM Dual Port Controller Module
4 x 488W Power Supply
2 X SAS Cable
2 X Front Facebezel Cover No Key Face Plate Bezel
2 x Set of Rails
! ! ! No Hard drives included (NO HDD) ! ! !
Versatile storage expansion:
The Dell PowerVault MD1000 is a modular disk storage expansion enclosures for PowerEdge servers. The PowerVault MD1000 is capable of housing up to 15 3.5-inch disk drives in a single 3U rackable chassis. The direct-attached storage enclosure supports both Serial Attached SCSI (SAS) and Serial ATA (SATA) disk drives to give customers extensive configuration and optimization flexibility.
Modular expansion flexibility:
When used in combination with a host-based Dell PowerEdge RAID controller (PERC) or a PowerVault internal RAID array, the modular enclosure can be daisy chained for scaling disk performance and capacity. The PERC 6/E enables up to three 15-drive SAS disk enclosures—a total of 45 drives—to be daisy chained to a single host connection, delivering an extended total capacity of 90TB when using 2TB disk drives. Alternatively, the enclosure's disk drives can be split between two servers with up to eight drives assigned to one server and up to seven drives assigned to a second server. Furthermore, the enclosure's disk drives, power supplies and cooling modules are hot-pluggable so they can be replaced while the system stays up-and-running.
For more info google :)